Meet the Band
The Musicians who make up the JCB come from many different backgrounds, ages and areas.
From Jenkintown, Abington and Cheltenham to Philadelphia and as far away as Collegeville, PA. All of our members come to rehearsals wanting to perform music at a high level and to have a good time. Some of our student musicians are pursuing music as a career while other students and adults are enjoying a musical community that appreciates many different skill levels. The JCB Band includes Junior High, High School and Adult members. Adults are encouraged to join! A minimum of three to four years of experience is needed. Come to rehearsals willing to learn in a relaxed atmosphere.
Schools of Past and Present Members
Abington High School
Abington Junior High School
Ancillae Assumpta Academy
Archbishoop Wood High School
Bishop Mc Devitt High School
Cheltenham High School
Cheltenham Junior High School
Chestnut Hill College
George School
University of the Arts
Immaculate Conception School
LaSalle High School
Mount St. Joseph's Academy
St. Basil's Academy High School
St. David's School
St. Hillay's School
St. Joeseph's Prep
Springfield High School
Springside Academy
Upper Dublin High School
The School of Hard Knocks
Meet Alex
Alex Schmauk, MA
JCB's Founder and Leader, Alex Schmauk, is the Music Director at Immaculate Conception School, ICS (Jenkintown, PA) where he has conducted the ICS Band and Jazz Band since 1999.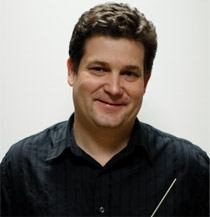 Alex holds a Bachelors degree in Music Education from the Peabody Conservatory of Music in Baltimore, Maryland, and a Masters degree in Trumpet Performance from the New England Conservatory of Music in Boston, Massachusetts.
During his studies, Alex attended the Tanglewood Music Center in Lenox, Massachusetts and the National Repertory Orchestra in Breckenridge, Colorado as a part of their fellowship programs. While at Tanglewood, he performed the "Leonore Call" under the baton of Maestro Seji Ozowa and worked with such notable conductors as Andre Previn, James Conlin and Robert Spano.
Alex is currently the Assistant Principal Trumpet with the Trenton Symphony and Second Trumpet with the Pottstown Symphony Orchestra. He has also performed with the Boston Symphony Orchestra, Delaware Symphony Orchestra, Helena (MT) Symphony Orchestra, Lancaster Symphony and the Chamber Orchestra of Philadelphia. Alex has also worked with popular performers such as Josh Grobin and Anne Murry.